This category contains articles about cousins on Shimmer and Shine.The genie bottle is a small vase in which Genies resides. It is a focal point of Welcome to Zahramay Falls . The bottle is briefly shown along with Shimmer and Shine's other items during the main song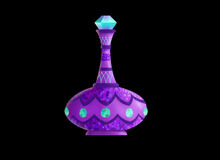 Looks
The genie bottle is mostly teal, blue,pink and gold. It is decorated with red and purple gems. Although the bottle is much smaller than the main characters, Genies including Leah and Zac can fit inside of it.
The genie bottle has appeared in all episodes of Shimmer and Shine: from season one to season three (see below).Leah has a Genie Necklce
In the Episode "Genie for a Day" Zeta gain the ability to use an potion to get Leah's Genie Bottle and become her genie.